Wanted Posters were put up around the Tri-Island Area when LeChuck put out a bounty on Guybrush Threepwoods head.
It depicted a young Guybrush with a crudely drawn on moustache.
It was updated whenever Threepwood committed a new crime.
One such poster on Phatt Island read: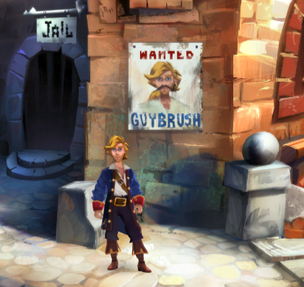 WANTED: GUYBRUSH THREEPWOOD
For the murder of G.P LeChuck...
Also the use of witchcraft on one Largo LaGrande...
The thievery of clothing and medically prescribed hair supplements for such witchcraft...
Graverobbing...
Trespassing...
Larceny without a permit...
Exceeding FDA limit for rodent parts in a vichyssoise...
and Releasing a dangerous reptile into a populated area.
Also wanted for questioning regarding the disappearance of prescription eyewear.
Reward offered for information leading to the suspects apprehension.
Threepwood is to be considered armed and dangerous.
Updates
[
]
Premature entombment of a non-dead individual...
Unauthorised exiting from a penal institution...
Disturbing the peace...
Illegal gambling on a sporting event...
Use of falsified identification for the purchase of alcohol...
Reckless tampering with city-maintained plumbing without prior acquisition of environmental impact report...
Transportation of animals not in a mental state to give consent...
Vandalizing a historical miniature...
Reckless use of gardening tools...
Impersonating a woman in order to evade prosecution...
Two counts of unauthorized exiting from a penal institution..
Impersonating a federal mail boat...
Reanimating dead persons within city limits...
Possession of library books not specifically checked out to oneself...
Mixing drinks without a liquor license...
Usage
[
]
Threepwood placed an image of Kate Capsize onto the poster in order to fool the island guard into allowing him to roam freely.