Scabb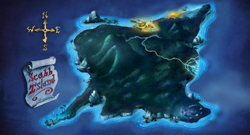 Scabb Island

Scabb Island is an island in The Tri-Island Area. According to a book in the Phatt City Library, Scabb was first settled as a quarantine island for skin diseases. It later became a haven for pirates as there were no governors or any other authorities, the only island where Pirates were free to be pirates.
Baron Salmon Bisque de Goodsoup landed there around the 1620s and started and from there he started his expanding chain of all-soup restaurants.
After the death of LeChuck, his henchman Largo LaGrande became the local bully and the only form of "authority"; he imposed an enormous tax fee, forcing anyone who arrived on or left the island to pay out large sums of money.
Guybrush Threepwood visited this island while looking for Big Whoop but he realised he had no way to leave unless he got rid of Largo and his infamous embargo.
Interest Points
Edit
See Also
Edit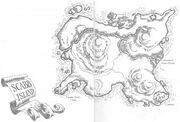 In The Curse of Monkey Island, Guybrush tells The Flying Welshman that he will find Scabb if he goes "north to north-east" from Blood Island. However maps of the Tri-Island Area show a different geography.