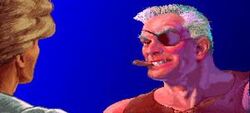 Captain Smirk was an expert swordsman who taught his skill to worthy students in his home on Melee Island. He was known for a signature sarcastic expression, which often his students would pick up from him.
Years ago he fought with Carla in Port Royal who later became the island's swordmaster. He later trained Guybrush Threepwood in use of the sword and the basics of Insult Sword Fighting. He believed that a well placed insult could be the winning blow a fight. When he felt his students needed intense basic training, he would introduce The Machine: a device he built to test a swordfighter's skills.
Apparently he was among the pirates who left the island after LeChuck kidnapped the governor Elaine Marley.
When Guybrush asked Carla and Otis about him during his search for the Ultimate Insult, Carla told him that Smirk had been challenged to a game of Insult Gin-Rummy by an 'Australian land developer' referring to Ozzie Mandrill. He was beaten, signed over the deeds to his house and left Melee Island in shame.